Designed by Brian Graham & Eric Pfeiffer
Pier Shelving, High
Pier Shelving, co-designed by Brian Graham and Eric Pfeiffer, is a celebration of sustainability and simplicity in a visually lightweight and elegant structure that's versatile, functional, and expressive. Pier's shelves are made of Kvadrat Really, a hard surface engineered from end-of-life textiles leftover from industrial laundries, the fashion industry, and Kvadrat's production and supply chain. This entirely circular material makes its US debut in a minimal linear application that maintains maximum functionality.

Just like piers on the bay, Pier Shelving's supports and shelving intersect in a discreet yet structurally sound way. Define space in an entirely new, thoughtful, and sustainable way with a system that's at home against a wall or out in the open creating neighborhoods.

Available in two heights - Low and High - shelving in Kvadrat Really Cotton Cream with either a white or black frame. Pier Corkboards, Whiteboards, and PET Panels are available to add on as fitting, functional accessories.

Want a Pier Shelving unit with specific dimensions, accessories, color frame, etc? Pier Shelving, Tailored is coming soon!

Materials
Kvadrat Really
Powder-Coated Steel
Laminate
Cork
PET
Finishes
Dimensions
Overall: 69"H x 17"D x 60"L
Whiteboard: 40"L x 33.5"W 3/4"D
Corkboard: 40"L x 33.5"W 1"D
PET: 33.5"L x 21.5"W x 1/2"D
Resources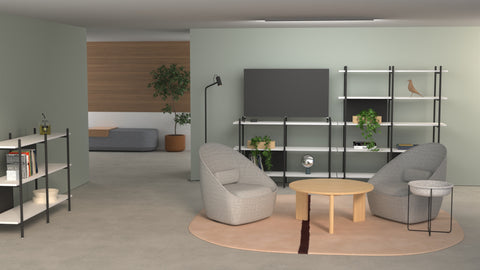 Meet the Designer
Brian Graham offers a strategic approach in the design, development, and marketing of workplace furniture. As an interior designer who evolved into a furniture designer, he finds that the ultimate power of good design lies in understanding how a product will be used.

Eric Pfeiffer brings his rich understanding of materials and manufacturing to develop products with craft and utility. Through designs that are robust in construction and essential in form for our every day, Eric continuously evolves the New American design voice and ethos that Corral embodies.